DIGITAL SIGNAGE SOLUTIONS
You Have A Message To Share

Tierney Can Help
Tierney helps businesses, schools, and organizations create the perfect Digital Signage solutions to meet your needs. Whether you are looking for a pre-built package or a custom solution to fit your unique needs Tierney will be there every step of the way.
Digital Signage
Creative Services
Our unrivaled Digital Signage Solutions
Tierney helps businesses, schools, and organizations create the perfect Digital Signage Solutions that meet your needs. Your digital signage should display your content in a bold, eye-catching manner that engages your audience. Tierney's creative team employs their talents to make sure you get your message across. We work in consultation with you to incorporate your ideas and create a finished product that reinforces your brand and is visually appealing.We'll use your branding guidelines to develop the appropriate backgrounds, text, and graphics within your custom channel to give you flexibility and ease-of-use as you update your information.
Digital Signage

Solutions
EVERY MARKET AND ENVIRONMENT HAS UNIQUE NEEDS AND YOUR ORGANIZATION IS DIFFERENT THAN ANY OTHER
Our digital signage software, hardware and custom design help you motivate your audience so your digital signage can make a statement.
Increase Engagement | Personalize Experience | Promote Brand Image | Display Dynamic Messaging for Students and Staff
INTEGRATING TOUCHLESS KIOSKS
Featured
Solutions
Watch Tierney and Mod Creative Inc for an informative presentation and pre-recorded, live demo of Wayble touchless kiosks. Covid-19 has changed the way we all interact with kiosks and guest services. This webinar will highlight how organizations are updating kiosks, wayfinding, and digital signage due to Covid-19.
Consultation Services
Define Objectives
Space Planning
User Experience
Budget
CONSULTATION
Our team is ready to work with you to create a plan for your specific needs. We know that each organization is different, and we work hard to bring each client's vision to life.
Creation
Content Design
Software Solution
Hardware Solution
CREATION
Tierney partners with the industry's top Digital Signage content management providers to bring you the best content creation options for your space.
Deployment
Services
Installation
Analytics
Ongoing Support
DEPLOYMENT & SUPPORTON
Tierney is here to take your project all the way to the end. We can provide recommendations on cabling, mounts, stands, and media players in addition to full installation services.
We know the project isn't over once the display is installed, so we offer ongoing support services to make sure you feel comfortable and supported long after the sale.
TIERNEY TECHNOLOGY NOW
Tierney Technology Now is designed to create the highest level of technology flexibility and protection. Our mission is to provide our customers with technology solutions that solve problems and create communication and collaboration environments that enhance productivity and learning. Technology changes fast and Tierney Technology Now ensures that your team is running at peak performance within a monthly operating budget.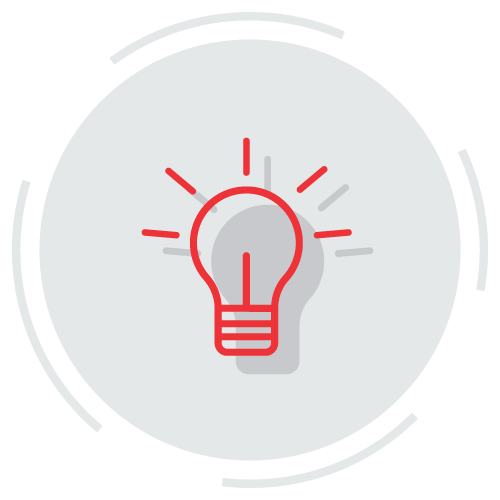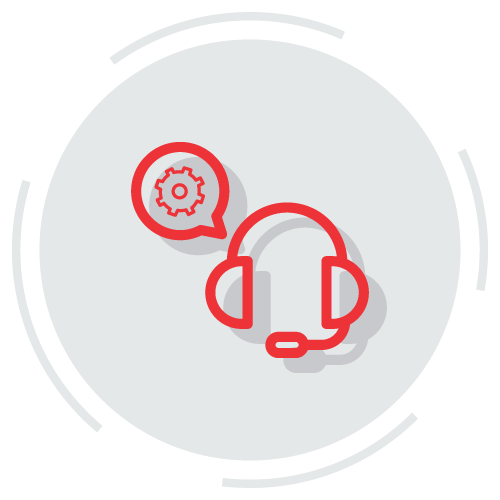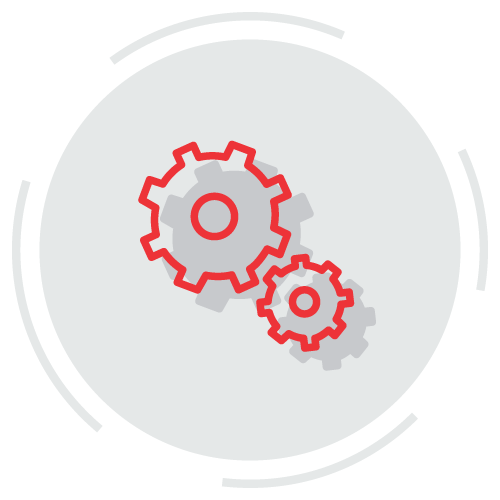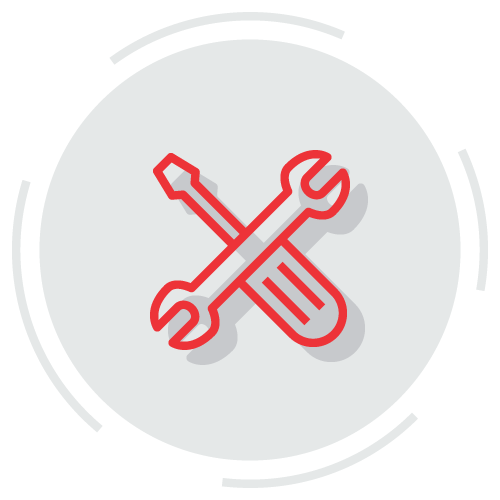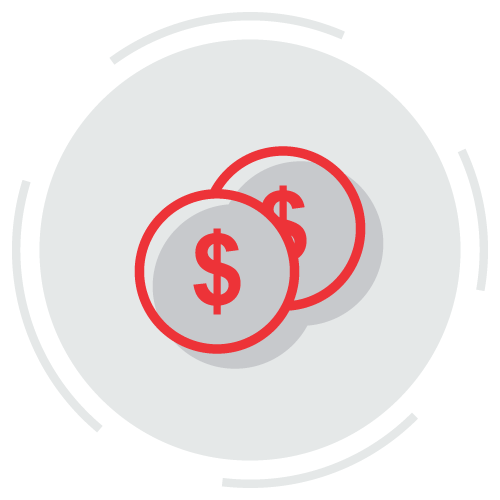 Discover


The Many Possibilities Of Digital Signage

TIERNEY WILL HELP YOU MAKE A LASTING FIRST IMPRESSION
Increase customer engagement
Deliver rotating messaging with informative content
Boost office morale & keep employees engaged
Drive brand awareness across your organization
Stimulate customer purchases
Simplify wayfinding
Spread safety messaging / emergency information
Reduce costs by replacing outdated static displays
TECHNICAL SUPPORT
At Tierney, We Know
Our Service Team Is World Class

, And We Have The NPS Customer Satisfaction Rating To Prove It.
LIMITLESS
Market

Applications

Digital Signage has become an essential form of communication across all markets. Tierney can provide the appropriate solution to deliver your messaging and branding goals, increase visibility, improve efficiency, and tell your story.
Software

Packages

Tierney DS Software Packages provide the best deployment experience. Whether Tierney installs or not, you will receive a ready to go out-of-box solution with training and support. The DS Package can be scaled for a single school or district deployment. Listed below are all the components necessary to successfully deploy digital signage.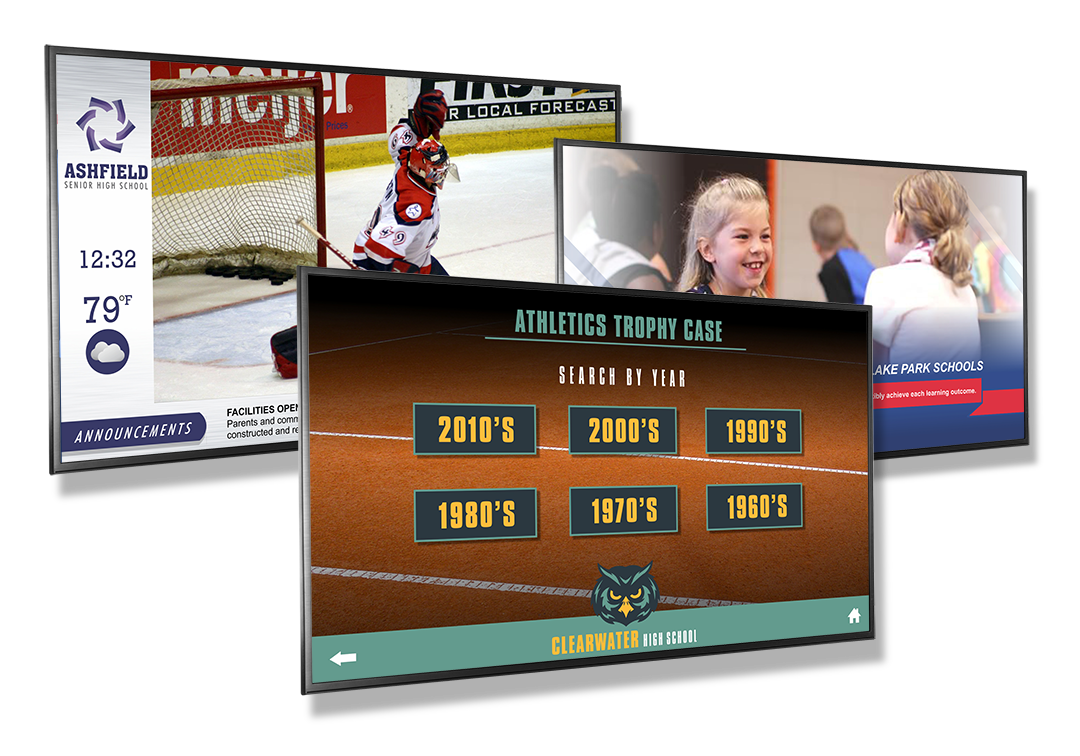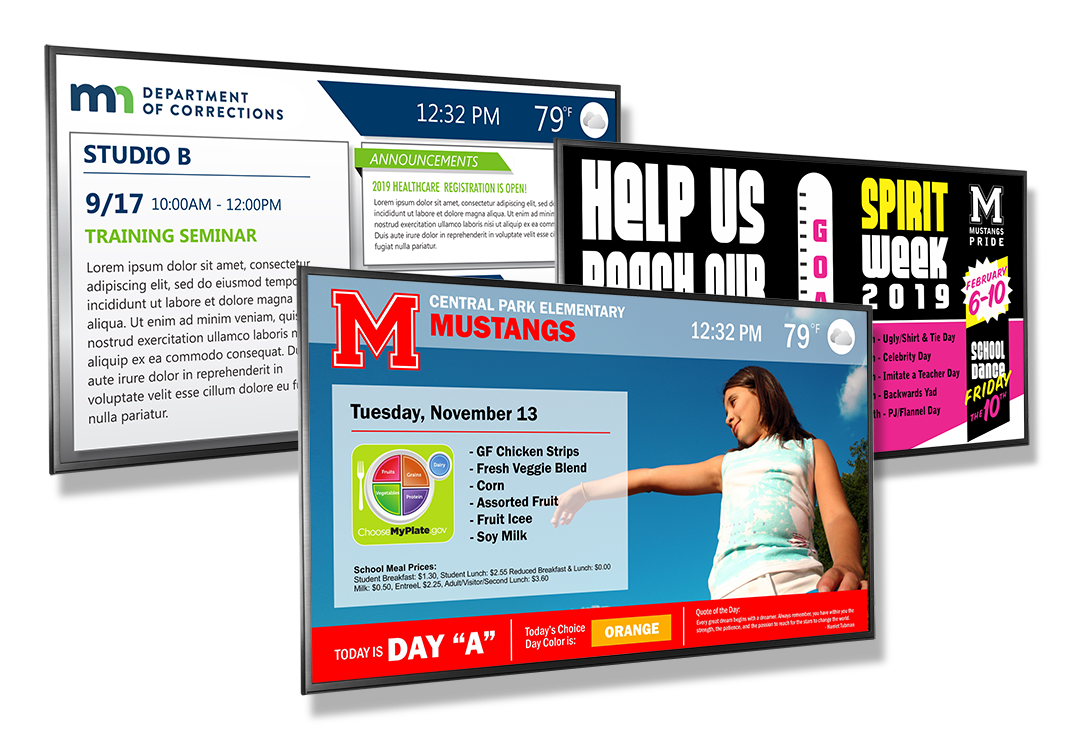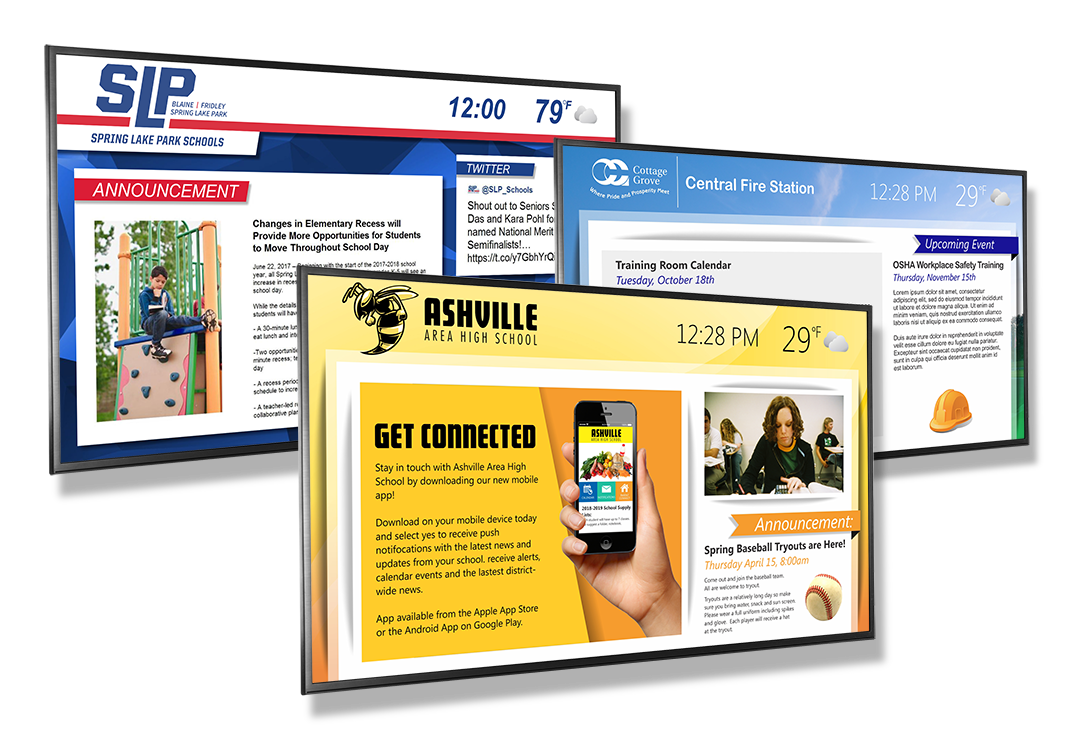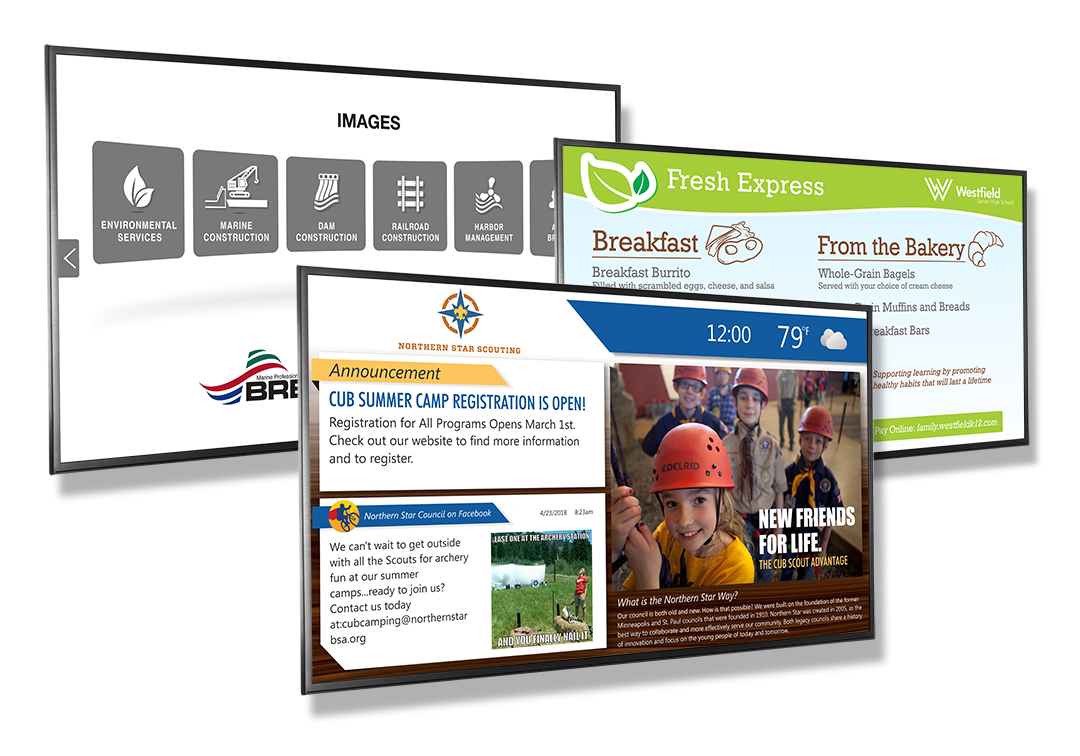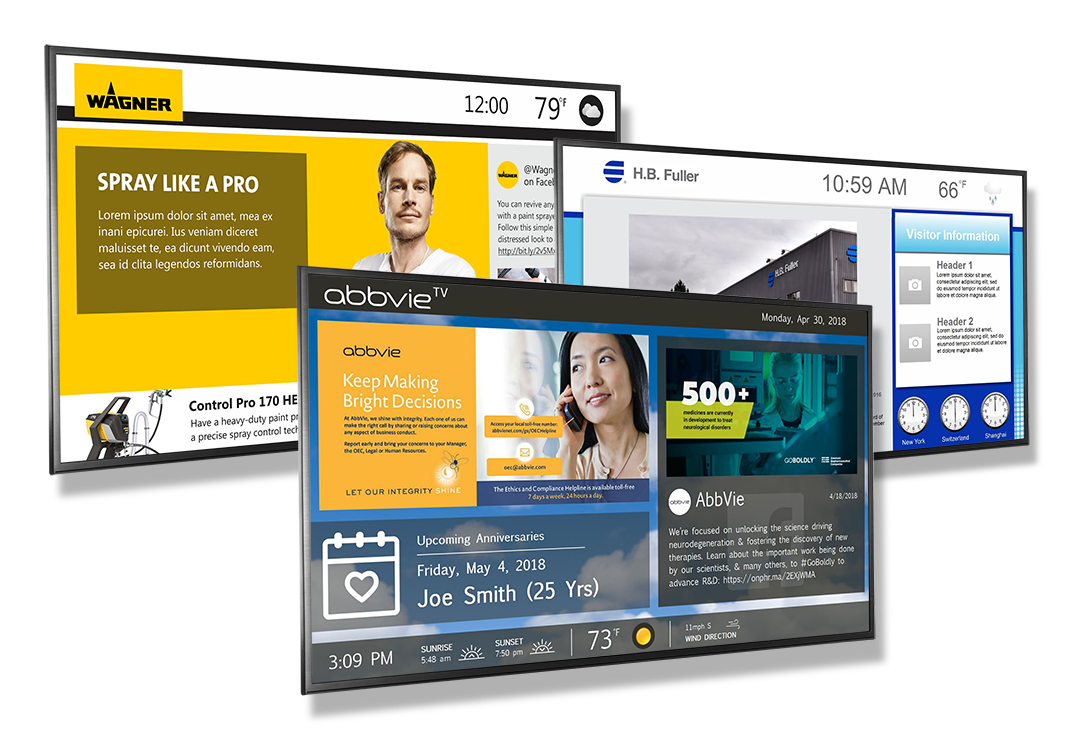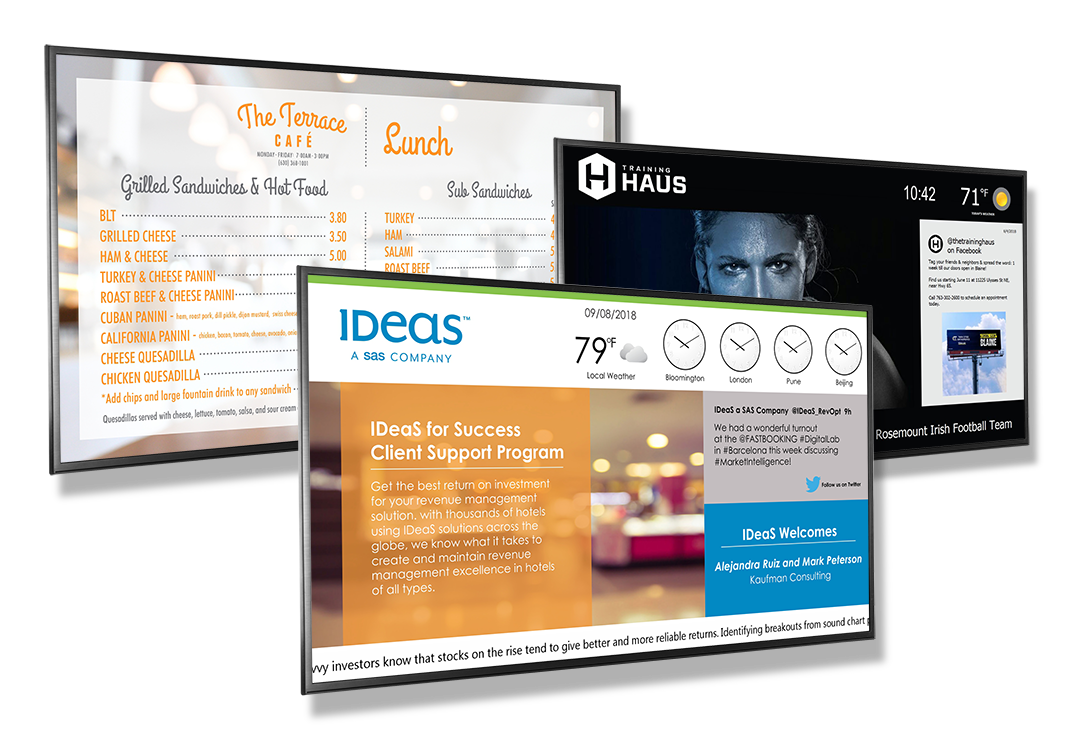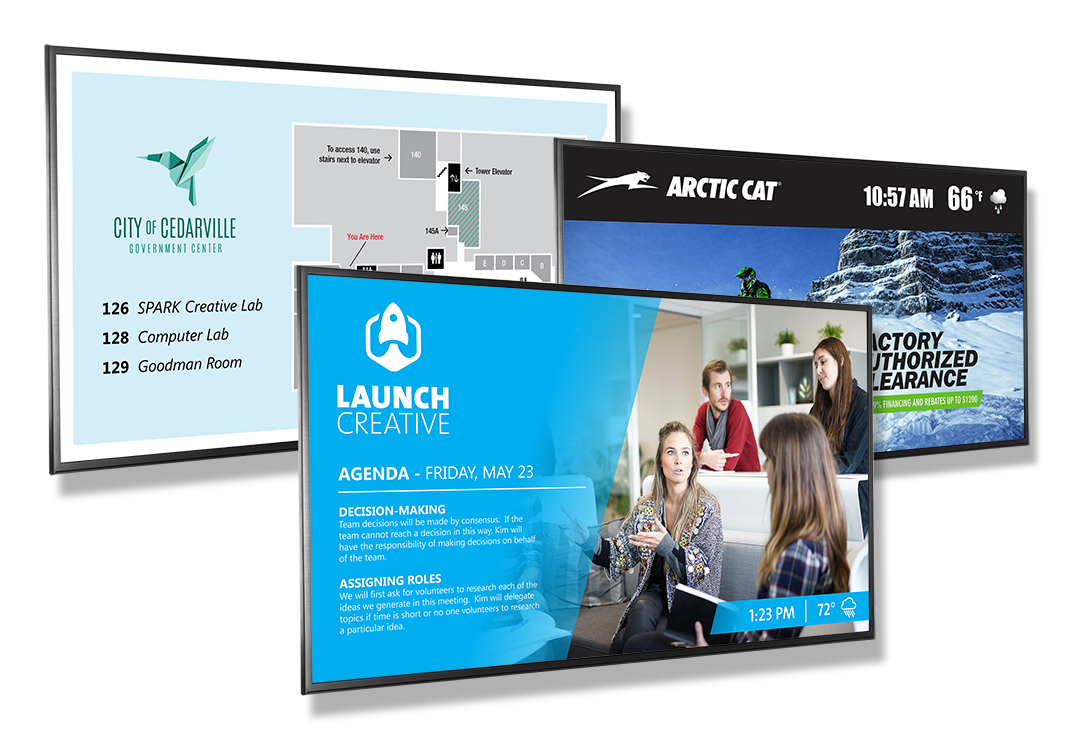 Hardware / Software
Content Management System
Commercial display with mount
Media player (1 per screen)
Cabling
Services / Support
Provisioning
Install
Training
Tierney EDGE Suport
We will work with you to create a custom branded channel design for your display. This includes using your specific branding guidelines so that your digital signage looks and feels just like you. Once the channel design is created, your content can be accessible, organized, and ready to be used by whomever has permission.
How Can We Help You With Digital Signage
Tierney can take your vision, and bring it to life with impressive digital displays for any setting. Contact us to learn more about stunning video walls, unique OLED displays, interactive touch displays, engaging outdoor signs, or incredible LED screens.
We're happy to provide more information and answer any questions you have.